Our Leadership and Board
Chief Executive Officer: J.R. Davis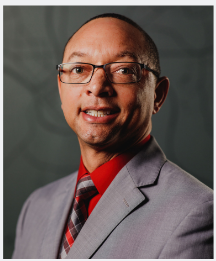 J.R. Davis is a Florida native and has served as the Chief Executive Officer of the Boys & Girls Clubs of Northwest Georgia since 2011. He has developed and led youth programs in California, Florida, and Georgia over the past 20 years and estimates his programs have successfully served more than 30,000 youth. He has a deep understanding of the importance of after-school programming that promotes the success of the whole child, including educational, lifestyle and activity choices. He is a military veteran and has a B.S. in Business Management and an Executive M.B.A. He also has leadership certifications from Florida State University and the Ross School of Business, The University of Michigan.
Mr. Davis is very active in the Rome Community, serving as a board member of the Floyd County Schools College & Career Academy, Rome Smile for a Lifetime, Georgia Alliance of Boys & Girls Clubs, Distribution Committee Member, South Rome Early Learning Center Committee Member, Member of the Seven-Hills Rotary Club, Member of the Redmond Diversity & Inclusion Community Advisory Group, and Leadership Rome. Mr. Davis is also a former board member of the Rome Chamber of Commerce and a mentor for the Berry College Center for Integrity and Leadership.
Board of Directors
The Northwest Georgia Boys & Girls Clubs Board of Directors is made up of community and business leaders dedicated to helping young people succeed in life. The Board of Directors provides fiscal management and strategic direction and, in addition, helps build a network of like-minded community members and organizations that can help the Clubs achieve its mission.
Officers
Edward Graves – President
JJ Johnson – Vice President & Treasurer
Ben McElrath – Secretary
Directors
Bob Babcock
Tom Bennett
Ballard Betz
Dr. Brad Bushnell
Dr. Gayland Cooper
Dr. Ryan Cox
Gaines Dempsey
Stewart Duggan
Keara Evans
Andy Gates
Russ Gates
Edward Guzman
Villa Hizer
Bryan Holland
Chip Hood
Robert Hortman, Jr.
W. Jordan Knight
Robert Ledbetter, Jr.
Greg Major
Rob Masters
Dr. Charlie May
Chantz McClinic
Ruth Miller
Robert Owens
Dr. Erica Paez
Jarrett Shadday
Jimmy Smith
Scott Smith
Jim Talley II
Chad Taylor
Mark Tison
Thad Watters
Anne Paige Wilson
Buster Wright
Janice B. Wright
Bo Yeargan
Emeritus Board
Mollie Avery
Wright Bagby, Jr.
John Burnes
Don Dellis
Jim Dudley, Jr.
Ed Henderson
Bob Hortman
Dr. Darrell Lowrey
Karen Nissen
Ronnie Wallace
Megan Watters
Charlie White
Charlie Williams